Foreign

trade
Information portals
Foreign trade procedures, forms, documents and contact data can be published through the 'eRegulations' system. Each procedure is presented step-by-step. For each step, the portal shows the institution/office/civil servant in charge, the expected result, the forms and other requirements, the cost, the duration, the legal basis and ways to complain (online or in person). The system is installed on a local server and training is provided so that a national technical counterpart is able to maintain it autonomously. Information is collected through field investigation, by consultants and national staff. They are trained in documenting procedures from the user's point of view, and in keeping them up-to-date.
A typical project lasts 9-12 months, first results are visible online in three months. Already installed in 25 countries, eRegulations has proved to be an excellent tool for transparency and for simplifying procedures. Regional eRegulations portals can be built to compare country procedures, thus contributing to regional harmonization and integration.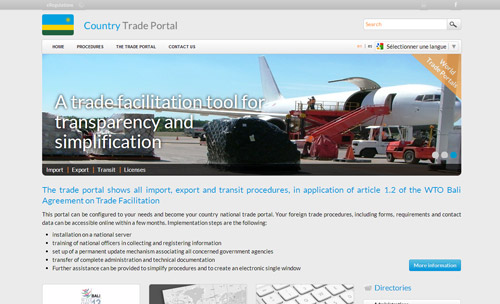 Single Windows
Electronic single windows allowing traders to submit online, through a single interface, all data and documents required by the various government and private bodies involved in foreign trade operations (Customs, port/airport authorities, Police, Sanitary authorities, etc.), can be developed on the basis of UNCTAD's 'eRegistrations' system.
Such electronic single windows grouping several administrative procedures have been successfully developed for El Salvador, Guatemala and Argentina. Others are being developed for Tanzania and the Ivory Coast. They can be implemented in 6-12 months.